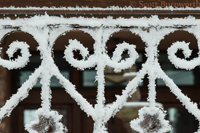 Happy Valentine's Day
Hearts are everywhere if we just open up to them.  They are part of nature and of our man made world.  I've walked by these gates several times a week for over 15 years and I've never seen the hearts.  It took a frosty morning and a photographer eye to capture the heart.  When I looked at the photo, the heart leaped off the page offering a sense of gratitude.
I felt silly that I hadn't noticed them before because I think I'm fairly observant.  The frost on the hard cold iron, softened and highlighted the form.  Plus this photo was taken during Valentine's week.  So now I have this new inspiration and motivation.  Where else can I find hearts in my everyday surroundings?  Where else can you find hearts right under your nose.   My new inspirational words:  SHOW YOUR HEART.