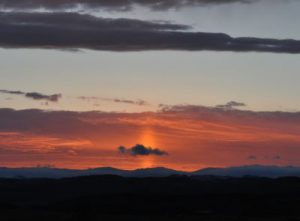 The very first article I picked up to read on January 1 2013, was the January/February 2013 Healthy Living Made Simple by Sam's Club. I normally quickly flip through the pages but an article on Lessons on Gratitude from Oprah and Deepak Chopra caught my eye. Oprah says . . . "that there is a greater power guiding the universe. When you tap into it, you have that power. And it is your real responsibility in life –nobody else's- to change your life and make it better."
It starts from within each of us, not out there. To take responsibility for ourselves the buck stops right at our door step or foot step. When I set conscious intention, as a child of God, I always give gratitude first. Then I state my intention as if it has already occurred.
"Gratitude opens the door to abundance consciousness because it gets you to the source, which is the source of all things, says Chopra." Going on, he says "The power, the wisdom, and the creativity of the universe? You open the door to all that through gratitude."
Reminding myself to simply Bless throughout the day, keeps me in the space of my heart and of gratitude.