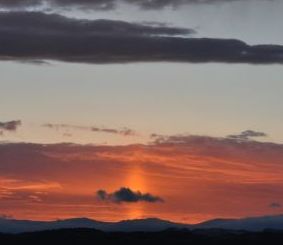 When I go about my day, there is so much negative press.  Many people listen to the news first thing in the morning and the last thing at night.  This proved to be a real downer for me, so I've gotten away from that old habit.  I don't even have a news feed as my home page.  I don't want to be pulled into the sensationalism and fear.  Most the time I catch bits and pieces of the news while driving.  If it's particularly negative or if there is an ad soliciting fear, I send the negative emotion back to the sender.  I don't want the negativity projected on my day.  After I've finished this, I send them a Blessing.  Blessings can be very uplifting to all involved.
What part of your community or our world would you bless?
Leave a comment to be entered into a daily drawing for 2 heart tags; one for you and one for a friend.