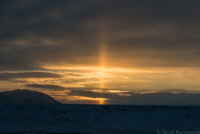 Have you noticed? The sky is staying lighter for a longer time before setting. I always breathe a sigh of relief when we move past Dec. 21st. I love the cycles but I do appreciate when we turn this corner.
I was out of town over the holiday and I did not notice the returning light. But once I was back on the northern plains it was obvious. It's only been one week but the sky now contains that beautiful color just a few minutes longer. Never do I get tired of the color in the sky. It is always a gift and a surprise to see what presents itself. Oh I get it . . . presents as in gifts.
The season of the long dark nights is behind us. We are now blessed with returning light. Enjoy and take time to notice the light around you and in you.