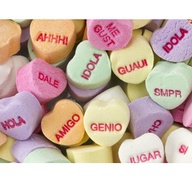 Recently I heard a couple of women awing and cooing over a new born baby.  I heard "bendiga su corazón."  My ears perked up because I knew "su corazón" meant "your heart".  As I watched these ladies, they had softness in their eyes and in their voices.  I knew whatever they said, came from their heart.  When I returned home, I searched for the meaning of "bendiga" and sure enough it meant "bless."
I know a young University student that is planning on attending a semester in Germany to further her international studies.  I asked her how to say bless your heart in German.  I watched and listened as she said "segne dein herz."  Again I saw and felt the softness as the words rolled off her tongue so naturally.  This is as far as my language skills carry me.  Thank goodness for our search engines.
Do your know how to say Bless your heart or Bless you in another language?
 Leave a comment to be entered into a daily drawing for 2 heart tags; one for you and one for a friend.