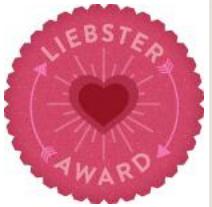 Yesterday, Jodi from http://100smilechallenge.wordpress.com nominated www.weblessyourheart.com  for the Liebster Award through the A-Z challenge.  As a member of the challenge, we promote those who have signed up for daily April blog posts.   I hit the accept button before I knew what I was agreeing to.  Now you'll get to know me a little bit better because I agreed to post random facts and answer questions posed to me.  It a great way for us to get to know each other.  Thank you Jodi.  Your site is beautiful and I'm looking forward to the connection.
11 Random Facts About Me:
I know how to imprint a foal
I know that whiskey is for drinking and water is for fighting"
I'm very good a dotting the "i's" and crossing the "t's" in contracts
I'm an author and publisher
I developed and sell equine supplements
I am a home ec major
I designed my home
I'm an accurate kinesiologist
I'm new to blogging.
I once had a 12 handicap
I'd rather throw bales of hay, then go to the gym, unless it's Pilates
11 Questions Answered:
What or who put a smile on your face today?  The sunshine
What or who inspires you to blog?  My social media coach and writer, Kerrie Flanagan of N. Colorado Writers
What is your greatest goal right now?  Most immediate is to finish the A-Z Challenge
What is your favorite way to spend ME time?  The Good Wife and a glass of red wine.
If you could change one thing about the world what would it be?  I'd like people to be more conscious of where there thoughts are
What is your best feature?  My best physical feature is my 6′ frame.
What are you grateful for today?  The rain clouds headed my way.  It is extremely dry
What is your favorite candy?  I rarely eat it
Which is your favorite holiday and why?  Christmas when everyone is full of good cheer
Dogs or cats?  Dogs in the house and cats in the barn
Which one word describes your mood right now?  Determined
My Nominations for the Liebster Award are:

Its too pretentious to have a cool blog title
Jess @ Whimsical Quests of a Curious Mind
11 Questions for My Liebster Nominees:

1.  Who or what is Liebster?
2.  How long have you been blogging?
3.  Do you have animals?
4.  Are you still in contact with any of your high school friends?
5.  What is your favorite tree?
6.  Do you have an artistic side you have expressed?
7.  Do you enjoy getting together with your family?
8.  Do you blog on WordPress.com or WordPress.org?
9.  What is your favorite color?
10.  Do you take or do or believe in  natural, alternative health?
11.  What do you wish I had asked you?