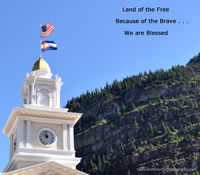 I can still remember the tears that would well up in my Dad's eyes if and when he would talk about "the war".  He served in WWII as a radar man on the aircraft carrier Saratoga.  He was only 21 and had never been outside of his hometown of Omaha, NE.  He was frightened the entire time and also seasick.  Their ship nearly sunk twice.
I hope you all saw our country musicians on the ACM Presents: An All-Star Salute to the Troops. Wow, does our  military ever "got talent".  Toby Keith wrote and sang  "Call a Marine" and performed it with Lt. Col. Mike Corrado.  I read Keith had to clean it up a bit because it's normally one of the songs he performs for the troops.  Finally the USO honored Toby Keith for his numerous (I think they said over 1000) performances for the military.  Keith said, I do it for them and "in Bob Hope's tradition".
On the holidays when we honor our country and our veterans I always think of the brave men and woman that serve and have served our country.  I get very emotional when I think of them and can barely finish singing, America the Beautiful or the Star Spangled Banner.
Have a Blessed Memorial Day.